Recommendations for American Website Company, LLC
an Internet Marketing Company
Internet marketing is a competitive business. We are grateful for each of our clients and thank them for their support and their recommendations. Here are some of the nice things that people have said about us.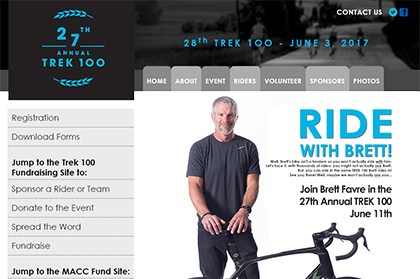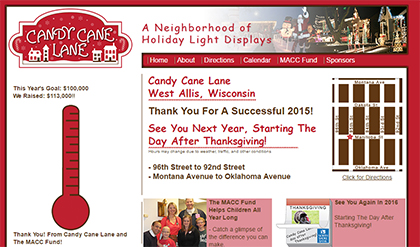 It has been an absolute pleasure working with Scott Lindberg from American Website Company. He is fast, professional, courteous, easily accessible and very knowledgable. The end result is a website that is informative and user-friendly. He is passionate about his work and it shows!

Colleen O'Neil Moran
Development Officer
The MACC Fund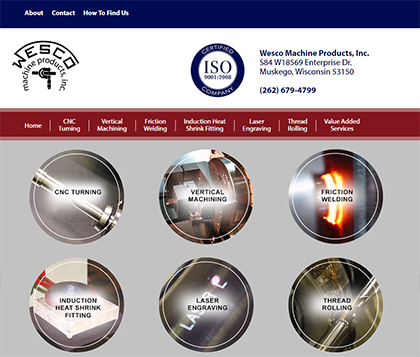 Scott was great to work with throughout the process and he made great suggestions and followed up in a timely manner when he needed materials from me. His expertise in the field of website design and knowledge of web marketing was obvious right from the start. I can honestly say I am proud to send a link to our website to any prospect or current customer. The website looks great and works great and was done at a very affordable price.

Nick Roelke
Vice President
Wesco Machine Products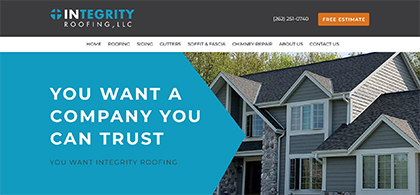 We couldn't be more happy with what American Website Company has done for us. Our new website looks great and we've received many compliments on it. We are also happy with the Search Engine Optimization as our keywords are getting to the top on Google, Yahoo, etc. Scott is very easy to work with and makes us feel very comfortable with the whole process. Again, we are very happy with American Website Company and would highly recommend them.

Mark Kasten
Integrity Roofing

Integrity Roofing is a Milwaukee Roofing Company that also does siding, chimney, gutter, soffit and fascia work.
Thank you for the great job you did on our new website.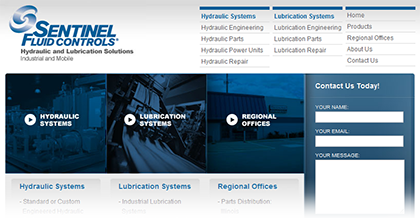 The search engine optimization is amazing. We're now on the first page of Google for literally hundreds of terms! Prospects are getting the information they need and taking the next step in contacting us. Where we used to get about one lead a month from our website, now we get a lead every day or two. We're certainly getting a positive return on our investment with American Website Company.

Thank you,
Dana Parker
Corporate Sales Manager
Sentinel Fluid Controls
Sentinel Fluid Controls distributes hydraulic systems and lubrication systems and manufactures hydraulic power units.
ChromeTech is glad to be back working with American Website and Scott. Scott had helped revamp our website and gave us monthly reports on hits and rankings. Scott had worked us up to the first page on the major search engines. We decided to try a major National company for a year. We were tied in for a year and the cost was many times that of American Website. What we were promised by the National Company and what we received were two different things. Our ratings dropped and the only two hits that lead to real work came from the past efforts of American Website. When our year was up, we quickly changed back to Scott. Our rating are back up and we get help from him that we could never dream of getting from the National Company. Scott is very easy to work with and is liked by my whole staff. Personalized service by someone that knows what they are doing and wants to help, makes this company a great value.
Alan Henry
President
ChromeTech of Wisconsin Inc.
Scott,
We love the new website.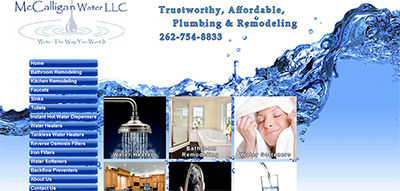 Thanks for working with us to get it just how we wanted.

We're already showing up on the search engines. Even more important we're already getting new customers! We're thrilled.

Thank you very much,
Dave McCalligan
President
McCalligan Water, LLC
McCalligan Water, LLC are licensed Wisconsin plumbers at www.mccalliganwater.com
Expert in internet marketing, American Website Company consistently helps us increase conversions and drive down costs per click each month. We have benefitted from the knowledge and expertise Scott shares in his regular recommendations for ad campaigns and optimization of landing pages. As a professional, he delivers excellent service, timely reporting and (most important) increasing results! I highly recommend American Website Company for your internet marketing programs.

John Panek


Director Channel Marketing
PKWARE, Inc.
Thank you Scott for all of your hard work and patience in putting together our website. We are pleased with the appearance of our website and how it depicts clearly what we want to promote. You were very personable and great to work with. Continued Success to you!!

Dale and Cindy Anderson
Inspiration Enterprises

Scott,

Thank you for the work you've done on our website. The online registration for the love4Haiti project went off without a hitch. We signed up over 1,000 volunteers! You really made a difference.

Thank you,
John Pfannerstill
Vice Chairman, Board of Elders
Woodridge Community Church
When we decided to start a new business we turned to American Website Company to handle our online presence and help grow our business.
I didn't really know what to expect but to my surprise we have increased our visibility on the search engines and continue to receive new business on a daily basis.
With the amount of sales I can attribute to American Website Company's efforts we have paid for our investment numerous times over.
Alex Herrmann
Marketing Manager
The Service Pros
Scott,

I am writing to thank you for your help with my Wolf's Vision Nature Photography website. Our goal was to improve the site's Search Engine Optimization and you were certainly successful in doing that for me.

I designed the original website, but my skills are limited. You quickly figured out how the website works and made the necessary changes to improve Search Engine Optimization. You taught me capabilities about my website set-up that I had not previously known. Your patience in explaining these things to me was much appreciated.

I would never have thought of doing a search of terms commonly "Googled" as they related to nature photography. You then incorporated those terms into my web pages. The efforts have certainly paid off, as you have consistently improved where my web site appears on searches. For many terms I am the first site and for even more I can now be found on the first page of a search, whereas, before you got involved I wasn't even appearing on searches.

Again, thanks for your efforts and I would certainly say that our mission to improve Search Engine Optimization was accomplished. I would be happy to recommend your services to others.

Brian Wolf
Wolf's Vision Nature Photography
Contact American Website Company to learn how your internet marketing efforts can be improved.
Trademarks and logos of other companies shown here appear for identification purposes only and are the property of their respective companies. American Website Company, LLC is not affiliated with any of these companies or organizations.